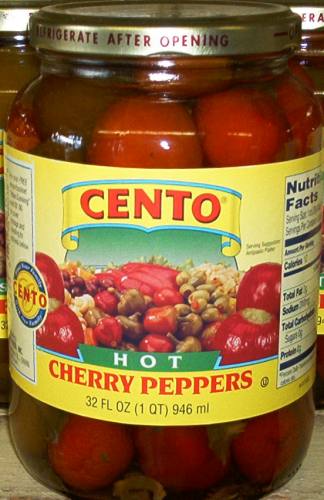 Last night, I tried something new, a recipe I glanced at in
Wine Bar Food
at (for some reason) the Chicago Art Institute.
Here's what you do:
Brown about 4 lbs pork spareribs in olive oil.
Add some smashed garlic cloves and brown.
Submerge in 2 large cans crushed tomatoes with salt and pepper. (Water as needed to cover.)
Braise at 325 for 2 and a half hours, covered.
Add about 1/2 a cup of jarred peppers and cook half an hour longer.
Remarks: the only peppers available were red "tabasco" peppers, which made it all but inedible to everyone but certain chain-smokers, who pronounced it delicious. But because of the ease of preparation (said chain-smoker made most of it with minimal supervision), overall tastiness and delectable house-filling savory smell, will definitely make again, this time with cherry peppers. I also think it would be good with something bland to cut it, like pasta or, even better, polenta, especially as there's plenty of sauce. Lest you think the combo reads a tad "barbecue," rest assured, the total lack of sweetness renders it completely Mediterranean in flavor, and it's much more like an Italianate braise or stew. Try it, you like it.